UNM Climate Surveys
Enhancing our Inclusive Culture at UNM: 
Faculty, Staff and Student Climate Surveys During 2022-24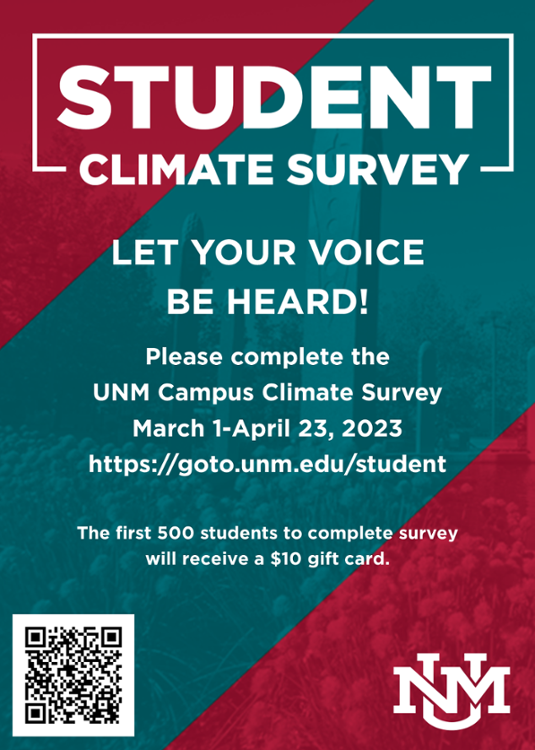 Climate Survey Summary Overview
Help create a climate that fosters diversity and success at the University of New Mexico! The Division for Equity and Inclusion (DEI) is looking to enhance the sense of belonging for staff across UNM campuses.

You can support this effort by taking an online climate survey that asks about: attitudes, behaviors, and standards of faculty, staff, administrators and students, respect for individual needs, abilities, and potential across units, allocation of research assets and the community wealth of the peoples of New Mexico and beyond, and the valuing of diverse voices at UNM.
This project is being conducted by the University of New Mexico Division for Equity and Inclusion. For more information, go to UNM Campus Climate, email diverse@unm.edu, or call 505-277-1238.
Survey Administration Cycle
Our timelines (dates our climate surveys will be open):
Spring 2023 Dates:
Students, March 1 – April 30, 2023
Previous Surveys:
Faculty,

November 16 – 31 December, 2022 - CLOSED

Staff, January 4 – February 28, 2023 - CLOSED
Expected Fall 2023:
HSC Faculty, Staff and Learners - Date TBA 


 
Student Climate Survey FAQs

Who?

Students from UNM Main Campus, School of Law and the branches (Gallup, Los Alamos, Taos and Valencia) are eligible to take the survey.

Climate surveys for Health Sciences Center (HSC) Staff, Faculty, and Learners will be administered Fall 2023.

All identifiable information (e.g., your name, email) will be removed from the information collected in this project. Only de-identified information will be analyzed.  After we remove all identifiers, the information may be used for future research or shared with other researchers without your additional informed consent. 

 

What?

The Student Campus Climate Survey is being conducted by the Division for Equity and Inclusion.

 

When?

The survey will be open March 1 through April 23, 2023.

 

Where?

You will be e-mailed a link to the survey at your preferred e-mail address the registrar has on file OR you can scan the QR code/visit the link provided to participate.

 

Why?

The findings from this project will provide information on understanding and recognizing the experiences of UNM faculty, staff, and students to shape and influence how we improve campus climate. 

 

How?

The survey is being administered electronically via an
e-mail link sent to all eligible students or students can click on the URL to participate.