Indigenous Research Experiences and Scholarship-IRES program
Student Scholarships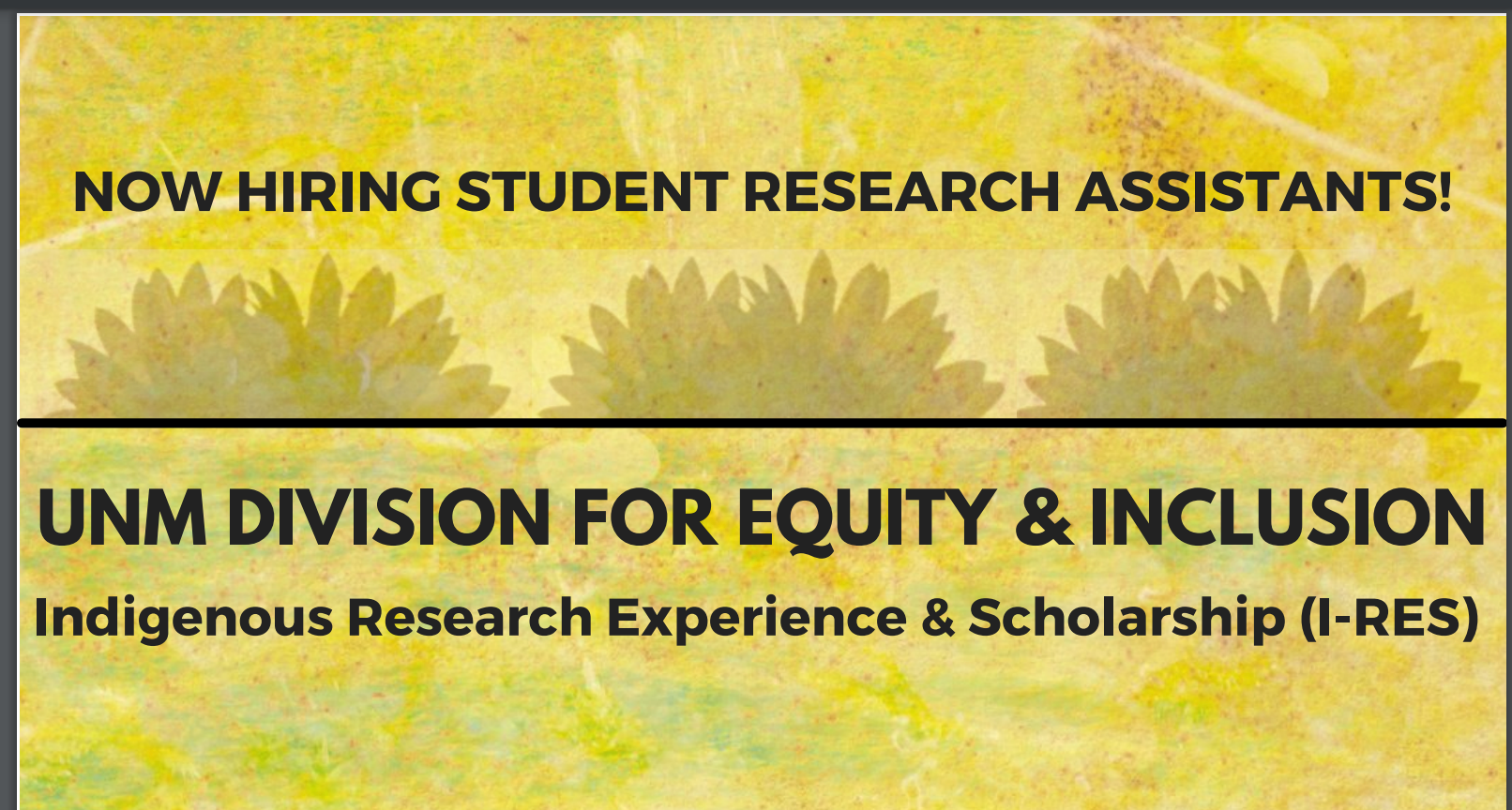 ---
The UNM Division for Equity & Inclusion (DEI) has been awarded funding for faculty to hire student research assistants in UNM units or departments through the fiscal year. Research will focus on or be closely related to agriculture, natural resources, engineering, business, or clean energy.
Application Criteria
Student Criteria
To receive funding from IRD, Tribal affiliation is required.
Enrolled as UNM undergraduate or graduate student
Minimum of 2.5 cumulative GPA
Progress towards respective degree program required (not on academic probation)
Student Requirements
At the end of the semester, funding recipients are required to submit a testimony (students can choose the medium they want to use for the testimony, i.e. paragraph, 20-30 second podcast) to DEI, as required by IRD. These testimonies are to be received from each of the students who participated in a research experience sponsored by IRD including: their major, how the experience helped them professionally, and their tribal affiliation. For each testimony, IRD will need media releases to be able to use them for reports and as a way of example to other students and institutions.
Faculty Committment
Position must focus on developing students' research identity and provide mentored experiences in research.
Application Deadline
Date: May 1, 2023
Complete Packet Must Include:
Completed funding request form
Copy of Unofficial Transcripts
Completed funding request form Copy of Unofficial Transcripts Attach a one-page description of the goals, objectives, mentorship plan for developing the students' research identity, as well as a statement about benefits to student, department, UNM, and community.
Submit Application
Questions
Email: diverse@unm.edu